The Ontario nuclear power dispute: a strategic analysis
Environmental Systems Research
2012
1:11
Received: 13 September 2012
Accepted: 20 September 2012
Published: 29 October 2012
Abstract
Background
The Graph Model for Conflict Resolution methodology is used to formally investigate the nuclear power dispute that took place in the Canadian province of Ontario in order to obtain strategic insights into its resolution. This flexible systems methodology is used to study the nuclear conflict at two key points in time, 2008 and 2010.
Results
The results of the 2008 analysis show that the only decision makers involved in the conflict who hold real power are the Federal and Ontario governments, although at the beginning of the investigation other organizations had also been considered as participating decision makers. According to a strategic analysis carried out for the conflict as it existed in 2010, the equilibria or potential resolutions of the 2008 analysis are found to be transitional states leading to the 2010 resolution. Moreover, a negative attitude by the Federal Government can cause an outcome to occur that is not highly preferred by either the Federal Government or the province of Ontario.
Conclusions
By closely following the decision makers' actions, a detailed analysis of the nuclear dispute in Ontario is carried out. Stability, sensitivity, and attitude analyses are performed, and the results are closely correlated with what happened in reality.
Keywords
Ontario nuclear power disputeGraph model for conflict resolution
Background
The conflict between the Federal Government of Canada and the Ontario Provincial Government has been ongoing for the past couple of years. The Ontario Government intends to expand the Darlington nuclear site and plans to procure its reactors from Atomic Energy of Canada Limited (AECL), the company responsible for the building, maintenance, and management of CANDU (CANada Deuterium Uranium) Canadian reactors.
Meanwhile, the Federal Government announced the decision of restructuring and selling or privatizing AECL. Nuclear technology has been very important to Canada since its genesis. Huge investments have been made in this industry by the Federal Government of Canada over the years. If AECL is sold and the Ontario Government does not buy its reactors from this company, it is very possible that no other province will make any purchases from AECL in the future.
CANDU reactors use a technology that is unique among other reactors in the world, and their safety standards are very strict. On March 11, 2011, an earthquake and tsunami occurred in Japan and caused serious damage to the reactors in the affected region. One of the main issues regarding Japanese reactors is that they emit radioactive water, whereas in the CANDUs, the steam and water in the secondary loops are not radioactive. Therefore, in a critical event, when heat release is required, the water in the secondary loop can be let out with no damage to the environment, and new clean water can be used. The other difference is that unlike Japan, all CANDUs are located in areas where tsunamis may not affect them, and environmental factors are taken into careful consideration in the design of CANDU reactors as well as advanced versions thereof (Canadian Nuclear Safety Commission,2011).
CANDU technology is a unique treasure to Canada. It would be a disaster for Canada to miss the opportunity of pioneering this exclusive heavy water CANDU technology as well as other versions of its reactors. Experts believe that whatever rearrangements in AECL management take place, the involved parties have to make sure that AECL remains a Canadian-owned company, or else Canada will forfeit this historic opportunity for leadership in nuclear technology, as occurred in the aircraft industry when Canada's Avro Arrow aircraft technology was destroyed (Hipel and Bowman,2011). Considering the importance of this technology and the conflict over the Canadian nuclear industry, the key purpose of this research is to model the aforementioned conflict by using the Graph Model for Conflict Resolution (GMCR) methodology. This approach realistically models the conflict between two or more players having different options under their control and preferences over what could take place. This academic work is helpful to researchers who would like to have an enhanced strategic understanding of the energy situation in Canada. Moreover, since the analyzed conflict is still an ongoing dispute in Canada, this study could be useful to decision makers and stakeholders involved in the dispute. Following an explanation of the history of the nuclear dispute, the dispute is modelled and analyzed for the situations existing in the years 2008 and 2010. The evolution of the dispute over time, the influence of attitudes on the potential resolution of the 2010 conflict, and other strategic insights are discussed. The application of GMCR to this specific dispute constitutes the first application of this kind of game theory technique to the Ontario nuclear dispute. In the next step, the conclusions are discussed, and finally, the methodology is explained.
Results and discussions
In this section, a brief introduction to the conflict is provided and the conflict in 2008 and 2010 are discussed, and the results are explained.
Introduction to the conflict
In this paper, the Canadian nuclear conflict is modeled with respect to two points in time. The first analysis was conducted in 2008. This issue is an ongoing problem, and the conflict has not been resolved. Since the first analysis, some other related announcements and news items have been published. Therefore, a second analysis was performed in 2010, taking into consideration the more recent information. Although the two analyses (ultimately) involve similar decision makers (DMs) and options, they are different in terms of the relative preferences of the DMs. In each analysis, the DMs and their options are introduced. After the feasible and indistinguishable states are determined, the relative preferences for each DM are defined. Then, static analysis and other dynamic analyses are performed.
Canada has twenty-two CANDU reactors; twenty of them are located in Ontario, the most populous province, one in Quebec, and one in New Brunswick. Nuclear energy provides about 15 percent of Canada's electricity (AECL,2008).
In the coming decades, the Liberal Government of Ontario wants nuclear plants to remain the source of half of Ontario's electricity supply. It plans to install two new nuclear reactors, which will provide up to 3,200 megawatts of electricity, and to expand the Darlington nuclear site, in order to address the increasing demand for electricity as well as to reduce greenhouse gas (GHG) emissions. Although Dalton McGuinty, the Ontario Premier, in his election campaign had promised to shut down four coal-fired plants, which are highly polluting, by 2007, in 2006, he decided to postpone this plan to 2014, because there was no proper replacement energy producer (CBC News,2006). At the beginning of March 2008, Energy Minister Gerry Phillips officially announced that the provincial government was seeking proposals to build a new nuclear plant. He declared that construction should begin in 2012 and electricity should be generated by July 1, 2018 (Benzie and Black,2008). Organizations that submitted their proposals included AECL, Westinghouse Electric Co. LLC, an American company, and Areva, a French company (Frame,2008).
As mentioned before, this conflict is analyzed with respect to two different points in time. In the following section, the dispute is explained according to the analyst's information and available publications as of 2008. It is worth noting that the present time in the following section refers to the year 2008.
Analysis in 2008
The state of the conflict in 2008
AECL is in trouble; it has not sold a single reactor in ten years (by 2008). A new president was appointed in December 2007 to change the situation and return it to its once leading position in the nuclear industry. In the February federal budget, it received an appropriation of $300 million to support research and develop new technology. However, AECL still cannot convince the Ontario Government to buy its advanced reactors. A few key factors can possibly change AECL's situation. In June 2008, AECL announced that it had signed an agreement with the Nuclear Power Institute of China to collaborate on the "design, research, development, and demonstration" of "low uranium consumption CANDU technologies". Moreover, AECL is working with South Korea on a process called "direct use of spent pressurized water reactor fuel in CANDUs" (DUPIC). DUPIC is unique and can give Canada the opportunity to solve many problems in a nuclear energy market increasingly dominated by light-water reactors. DUPIC also gives existing and new CANDU 6 reactors a chance to minimize the environmental risks. As nuclear experts point out, the existence of the DUPIC project alone gives the Federal Government a new option to give AECL another chance. It could be a point of strength for the company. If AECL accomplishes good results with these projects and keeps achieving satisfactory contracts, it might change the Federal and Provincial Governments' views (Hamilton,2008a).
Different parties and groups in Canada are concerned about AECL's future. Ontario Energy Minister Duncan believes that AECL would be worth far less if Ottawa privatized it. If AECL were sold to a foreign company, thousands of skilled workers would lose their jobs at a time when the province has already lost thousands of industrial jobs.
Decision makers, options, states and relative preferences
According to the background of the conflict, the DMs of the dispute are listed below:
• The Federal Government
• The Ontario Government
• AECL
• Green Groups
Hereinafter, FG, OG, and GG denote Federal Government of Canada, Ontario Government, and Green groups, respectively.
The four aforementioned DMs and their options, and the current state of the conflict are shown in Table
1
. In order to better represent and discriminate states, each state is defined as follows:
where
x
1
x
2
x
3
are the options that belong to FG,
x
4
x
5
belong to OG,
x
6
belongs to AECL, and
x
7
belongs to GG. In addition,
x
j
=
Y
indicates that the
j
-th option is chosen and
x
j
=
N
indicates that it is not. It is a large conflict, so GMCR II software developed by the Conflict Analysis Group in the Department of Systems Design Engineering at the University of Waterloo (Fang et al.,
2003a
b
; Hipel et al.,
1997
) was used to perform various types of analyses.
Table 1
DMs and options in 2008 analysis
| DMs | Options | Status Quo |
| --- | --- | --- |
| Federal Government (FG) | 1. Sell less than 50% of AECL's stocks, and keep control of it | N |
| | 2. Sell or privatize AECL | N |
| | 3. Fully support AECL | N |
| Ontario Government (OG) | 4. Buy reactors from AECL | N |
| | 5. Buy reactors from a foreign company | N |
| AECL | 6. Convince both governments that it is capable of fulfilling its mandates | N |
| Green Groups (GG) | 7. Continue their protests against nuclear power | Y |
The infeasible states are also determined. These states must be eliminated from the analysis. A number of infeasible states are observed in this conflict, and after removing those states, 48 states remain.
• The options of the Federal Government and the Ontario Government are mutually exclusive. Therefore, considering the options mentioned in Table 1, the states listed below should be removed:
– Federal Government: (Y Y -, - -, -, -), (Y - Y, - -, -, -), and (- Y Y, - -, -, -)
– Ontario Government: (- - -, Y Y, -, -)
Based on the background study of the conflict, the preferences of the three DMs are determined using the option prioritizing method (Explained in Methods). Some explanations are provided and used to form the relative preferences.
• The Federal Government (FG) is contemplating the future of AECL: To sell less than 50% of AECL, sell it all or privatize it, or support it. However, its negotiations are not clear to other parties and to the public. The Federal Government prefers AECL reactors be sold to Ontario, so that AECL can gain credit to sell more reactors to other countries.
After the states presenting this situation, the Federal Government next prefers the states in which neither the Federal nor the Ontario Government take any action. The Federal Government would prefer to sell AECL if it is faced with complaints from taxpayers or the Ontario Government. The least favoured states for this DM are the ones that represent the support of AECL by the Federal Government. Table 2 demonstrates the specific way that state prioritization is managed in GMCR II for FG. In this table, preference statements are listed from most important at the top to least important at the bottom. The numbers in the left column of Table 2 refer to the option numbers given in Table 1, where a negative sign means that the option is not taken. Notice that the most important preference for the Federal Government is not to fully support AECL by not taking option 3 (denoted by −3). Assuming transitive or ordinal preferences, an algorithm can take the prioritized preference statements of the Federal Government in Table 1 and rank the states from most to least preferred where ties are allowed.
• The Ontario Government (OG) most prefers to select home-grown technology if AECL is successful in the redesign process. In addition, it would prefer that the Federal Government supports AECL. AECL being supported by FG is much more important to OG than redesigning CANDU reactors. It expects the Federal Government to support AECL in completing its projects on schedule. Next, it prefers the future of AECL to be resolved and to buy reactors from this company when AECL is trusted. As the Ontario Government does not want to waste time, it would rather purchase reactors from a foreign company if the future of AECL is undetermined.
• AECL is trying to complete its projects in order not to be sold. The most desirable states for AECL are the ones in which AECL is not sold. Among these states, it is more preferable for AECL to be supported, and it is also very important for AECL to sell its reactors to the Ontario Government.
• Green Groups (GG) are against nuclear energy. They declare their opposition via speeches and websites.
Table 2
The option prioritization table for the Federal Government (FG)
| Preference Statements | Explanation |
| --- | --- |
| -3 | The most important thing for FG is not to support AECL, and not to invest more money into it. |
| 2 | Next, FG prefers to privatize AECL. |
| -1 & -2 & -3 & 4 | FG mostly prefers that OG buys its reactors from AECL. |
| -1 & -2 & -3 & -4 & -5 | It prefers that both governments take no action. |
| 2 & 4 | Next, it prefers to privatize AECL and prefers OG to buy its reactors from AECL. |
| 1 & 4 | Next, it would like to sell less than half of AECL's stocks and OG to buy its reactors from AECL. |
| 3 & 4 & -5 | After that, it prefers the case that it supports AECL, and OG buys its reactors from AECL. |
| 3 & -4 & -5 | It next prefers the situation in which it supports AECL, and OG waits. |
| -1 & -2 & -3 if 5 | If OG makes a foreign purchase, FG prefers to do nothing. |
| 6 | Redesigning the reactors by AECL is one of its least priorities. |
| -7 | AECL working on the DUPIC project is also of less importance for FG. |
Static analysis
The equilibrium states (along with their corresponding stability types) determined by running the stability analysis in GMCR II are listed horizontally as:
•(N Y N, N N, N, Y): state 27, GMR, SMR,
•(N Y N, N N, Y, Y): state 39, GMR, SMR, and
•(N Y N, Y N, Y, Y): state 43, Nash, GMR, SMR, SEQ.
These states indicate what actually took place in reality. State 43 is the most stable equilibrium state, as its stability type is Nash, which also means that state 43 is equilibrium according to SEQ, GMR, and SMR. Because 43 is Nash equilibrium, no DM can unilaterally move to a more preferred state from state 43. States 27 and 39 are also equilibria in this conflict, but only according to SMR and GMR stability, which means sanctioning DMs can move to less preferred states when blocking the given DM's unilateral improvement, which is a movement by a DM to a more preferred state. What happened in reality (as of 2010) is that the Ontario Government chose AECL as the vendor of the reactors, and then the Federal Government decided to attempt to privatize AECL. After this decision was made, the Ontario Government postponed the purchase of the two reactors, because the future of AECL was very uncertain. Therefore, the state that took place was state 43, but states 27 and 39, which can be presented as (N Y N, Y N, N -, Y), happened after state 43, where a dash means Y or N. Also, since states 27 and 39 are only GMR and SMR equilibria, the stability of these states is not as strong as an SEQ equilibrium in which the sanctions by other DMs against unilateral improvements by a focal DM can only be levied using unilateral improvements. Here, one may conclude that neither state 27 nor state 39 are the final equilibria of the conflict, so the dispute will not finish at this point.
Status Quo analysis
To apply status quo analysis, the current state of the conflict has to be determined. Next, the analyst investigates the way the conflict has evolved from its initial state in 2008. In the current state of the conflict, FG and OG are not taking any action; AECL is working on the DUPIC project and on the design of Advanced CANDU Reactors (ACRs), and consequently, trying to satisfy its customer, OG, and its owner, FG (option 7); and GG is protesting. This set of options represents the status quo state 25 (N N N, N N, N, Y). In this case, the game develops from state 25 (N N N, N N, N, Y) to states 43, 27, and 39. The evolution of the conflict is shown in Table
3
. In each level, one DM can move the conflict from the existing state to another state. The arrows, along with an assigned DM, show which DM is moving the conflict.
Table 3
Evolution of the conflict
Federal Government

1. Sell less than 50% of AECL

N

N

N

N

N

2. Privatize AECL

N

N

N

FG

→

Y

Y

3. Support AECL

N

N

N

N

N

Ontario Government

4. Buy from AECL

N

N

OG

→

Y

Y

OG

→

N

5. Buy from a foreign company

N

N

N

N

N

AECL

6. Satisfy FG and OG

N

AECL

→

Y

Y

Y

-

Green Groups

7. Protest

Y

Y

Y

Y

Y

25

37

29

43

27&39
Although it is shown that the 2008 conflict will finish at states 27 and 39 (which is what happened in reality), later the authors show that in fact the conflict will again move to state 43, and states 27 and 39 are the transition states in the 2010 conflict. It should be noted that the number assigned to each state is not the same in the 2008 and 2010 conflicts.
Sensitivity analysis
In order to gain more insights, some sensitivity analyses have been run. Sensitivity analyses can help the analyst to have a better understanding of the conflict and the static analysis. For example, in this conflict, it seems that although the Green Groups, GG, have an option to protest against the investment in and the use of nuclear energy, they are not as powerful as the other three DMs. The main reason for this is that all the other DMs, in contrast to GG, are in favour of nuclear energy. It seems logical that the fourth DM, being the only anti-nuclear DM, does not have a considerable effect on the result of the conflict. To see how much this anticipation is correct, GG is omitted from the game, and another static analysis is executed, and the equilibrium states are shown below:
• (N Y N, N N, N): state 3, GMR, SMR,
• (N Y N, N N, Y): state 15, GMR, SMR, and
• (N Y N, Y N, Y): state 19, Nash, GMR, SMR, SEQ.
These equilibria verify the aforementioned expectation, as the indicated results are essentially the same as the results in the previous analysis. Option prioritization tables show that the decision of GG regarding whether to protest or not is among the least important issues for all DMs except for GG. Therefore, the results show that GG is not an important DM in this conflict. In other words, GG cannot significantly influence the other DMs' decisions regarding the future of AECL.
Another idea is to eliminate AECL as well. Although it might seem that AECL's attempt to obtain the trust of FG and OG would affect the decisions of those two DMs, it is possible that their decisions are independent of AECL's achievements. If this possibility is in fact true, AECL would not actually be a DM in the conflict, and only the two governments would be important DMs. Thus, if AECL were to be omitted from the analysis, and AECL is not a DM of any real consequence in the conflict, the two equilibria one would expect to obtain would be: (N Y N, Y N), which would be equivalent to state 43, and (N Y N, N N), which is the same as states 27 and 39. The related analysis results verify the fact that AECL is not an influential DM. The resulting equilibrium states for this analysis are shown below:
• (N Y N, N N): state 3, GMR, SMR,
• (N Y N, Y N): state 7, Nash, GMR, SMR, SEQ.
In order to more deeply investigate the effect of AECL as a DM on the results of the modeling, the preferences of this DM are changed. If AECL is not significantly affecting the game, changing its preferences should not change the equilibria regarding the future of this company. This change is applied to the game with three DMs, in which only GG is omitted. Different arrangements of AECL's relative preferences are made at this level. The results show that the equilibria do not change, although their types do with some changes in the relative preferences. Therefore, one may conclude that AECL does not, in fact, have a considerable effect on the other two DMs.
Finally, since only two DMs are found to be influential in this conflict, the status quo table is reproduced to show the evolution of this smaller conflict (Table
4
).
Table 4
Evolution of the 2-DM 2008 conflict
Federal Government

1. Sell less than 50% of AECL

N

N

N

N

2. Privatize AECL

N

N

FG

→

Y

Y

3. Support AECL

N

N

N

N

Ontario Government

4. Buy from AECL

N

OG

→

Y

Y

OG

→

N

5. Buy from a foreign company

N

N

N

N

1

5

7

3
Analysis in 2010
Previously, the Ontario nuclear dispute was analyzed for 2008. This dispute, however, is an ongoing conflict in the province. Therefore, in the following sections, an attempt is made to perform a new GMCR analysis of the same conflict, but with an updated background. In addition, regarding energy issues in the province, the Government of Ontario has recently published an updated energy report (Ontario Government,2010).
Conclusions
The dispute over the expansion of the Darlington nuclear site in Ontario is formally studied in this paper for two different points in time: the fall of 2008 and spring of 2010. According to the background information about this conflict in 2008, four DMs were considered to be involved in the game: the Federal and Ontario Governments, AECL, and green groups. However, after several sensitivity analyses, the authors arrived at the conclusion that the key DMs are the Federal and Ontario Governments. The status quo analysis is also provided and the evolution of the conflict from March to fall 2008 is explained. The conflict did not terminate at this point and is still ongoing. The results and information of the analysis in 2008, and an updated background in 2010, are used to perform another analysis in 2010. Only the two governments are counted as the main DMs at this time, and their options have changed from the situation in 2008. The equilibria found in this analysis for 2010 suggest that the conflict will ultimately move to a state in which the Federal Government sells AECL to a domestic company, and the Ontario Government buys its reactors from AECL or its new CANDU owner. The other outcome is the initial state, in which no DM takes any action. This state actually was stable in reality for a period of time. So far, the results are closely correlated with what happened in reality, as the Federal Government sold AECL to SNC-Lavalin, a Canadian company (Babbage,2011; McCarthy,2011). The decision of the Ontario Government is still unknown, but the analyses suggest that Ontario will buy its reactors from AECL. In addition, in the attitude analysis, it is discovered that if the Federal Government has a negative attitude towards the Ontario Government, it is possible that the final outcome is a state that is among the least preferred states for both DMs.
Methods
The Graph Model for Conflict Resolution (GMCR) is the approach that is used to analyze this conflict. The GMCR methodology was developed by Fang et al. (1993) based upon earlier work byFraser and Hipel (1984) andHoward (1971). This decision technology can be used to analyze disputes among different parties with different options or decision choices, and different preferences or value systems. It is for this reason that this methodology has been chosen to be used in this research. GMCR constitutes a flexible approach to the representation, analysis, and understanding of a strategic conflict. It also facilitates modifications to the way in which the conflict is represented, thereby supporting sensitivity and what-if analyses. Finally, descriptions and comparisons of a range of different approaches for formally studying conflict are provided in two books edited by Hipel (2009ab).
GMCR is able to provide a DM with suggestions for reaching possible resolutions either independently or in cooperation with others. In some cases, win/win resolutions can be reached even though this may initially appear to be difficult to achieve. Figure
1
illustrates the way in which a conflict study is carried out in practice. GMCR, along with its associated decision support system GMCR II (Fang et al.,
2003a
b
; Hipel et al.,
1997
), is used to model the conflict and analyze the current situation.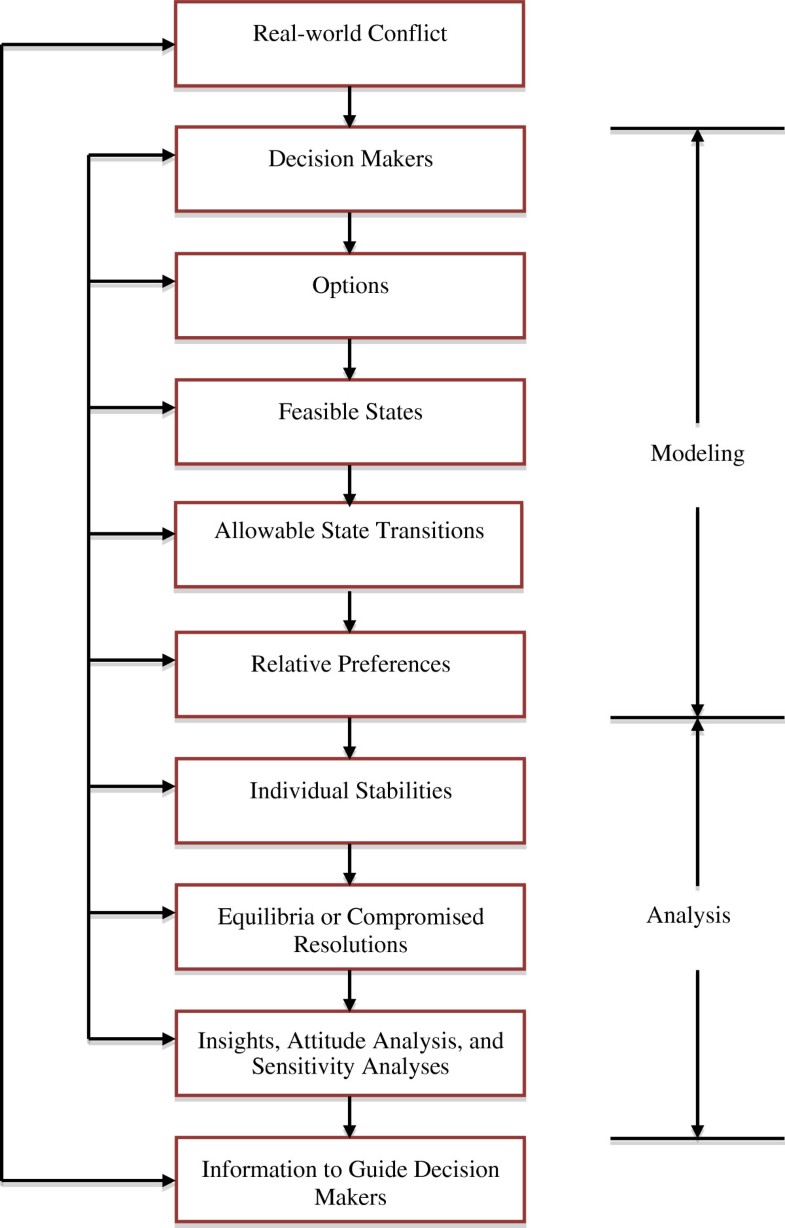 The most important part of applying the GMCR model to a real-world conflict is the background investigation. Searching the news, talking to experts, and reading the related published articles help the analyst acquire a proper understanding of a conflict and develop a realistic model. Therefore, accurate and comprehensive information plays a fundamental role. In fact, the whole "Modeling" section, as shown in Figure 1, as well as the "Interpretation and Sensitivity" stage in the "Analysis" part, directly depends on the analyst's findings. In other words, the analyst determines the DMs, their options, infeasible states, and relative preferences. The analyst's decision about executing different sensitivity analyses, and the interpretations and suggestions to actual DMs for an ongoing conflict depend on the available data. In some cases, the analyst may work directly with a DM or the DM's representative involved in a dispute, while in other situations, he or she may be working with an interested stakeholder who has no direct decision-making power in influencing the dispute under study but is affected by its outcome.
Decision makers, options, feasible states, and allowable state transitions
To use the graph model methodology, one must first model the dispute in terms of the DMs. A DM is a person or a group who plays a role in a conflict and has one or more decisions to make, or alternatives to choose. Besides the DMs and options, states should be defined. A state is any combination of chosen options. A sample state, under the name of Status Quo, is shown in Table 1. The letter "Y" means that the DM selects an option under its control, while "N" denotes the refusal of a DM to choose the option. A dash ("-") indicates that for the DM to choose or not to choose an option is inconsequential. Some states cannot occur in reality. These states are considered "infeasible" and have to be removed from the conflict.
After determining the feasible states, the allowable transitions should be determined. From each state, a specific DM can only move to a certain set of states. This set, which is referred to as a DM's Reachable List, consists of the states in which other DMs' choices, including Y, N, or -, are not different from the initial state. When a DM on his/her own moves from one state to another, this move is called a unilateral move. If the state to which the DM moves to is more preferred by him or her, the move is called a "unilateral improvement".
Relative preferences and static analysis
After generating a complete set of feasible states, the analyst must determine the relative preferences, in which, for each DM, states are ranked from most to least preferred, where ties are allowed. Three methods can be used in GMCR II to define the relative preferences of each DM: Direct Ranking, Option Weighting, and Option Prioritizing.
Subsequently, according to a rich range of solution concepts describing how people or organizations may behave under conflict, a stability analysis of the conflict is carried out to calculate the stable states for each DM. A state that is stable for all DMs in the dispute is called an equilibrium, which suggests a possible resolution to the conflict.
A range of stability definitions have been defined for determining stable states in a dispute in which it is not advantageous for a DM to move away from a state under study. The four useful stability definitions given in Table
15
consist of Nash (Nash,
1950
1951
), sequential (Fraser and Hipel,
1984
), general metarationality (GMR) (Howard,
1971
), and symmetric metarationality (SMR) (Howard,
1971
). Qualitative explanations of how each stability definition works along with its overall characteristics are provided in Table
15
, while Fang et al. (
1993
) furnish mathematical definitions within the paradigm of GMCR. When a state is stable for all of the DMs according to a specific stability definition, the state constitutes an equilibrium or possible compromise resolution.
| Solution Concept | Stability Description | Foresight | Knowledge of Preference | Disimprovement | Strategic Risk |
| --- | --- | --- | --- | --- | --- |
| Nash | DM cannot move unilaterally to a more preferred state | Low | Own | Never | Ignores risk |
| SEQ | All DM's unilateral improvements are sanctioned by subsequent unilateral improvements by others | Medium | All | Never | Takes some risks |
| GMR | All DM's unilateral Improvements are sanctioned by subsequent unilateral moves by others | Medium | Own | By opponent | Avoids risks |
| SMR | All DM's unilateral improvements are sanctioned, even after response by the DM | Medium | Own | By opponent | Avoids risks |
Interpretation and sensitivity analysis
After carrying out a stability analysis, one may perform appropriate sensitivity analyses. In this case, the DMs, the options, or the relative preferences can be changed to obtain a better understanding of the issue and ascertain how the equilibrium results are affected.
There are also other types of analyses that can be carried out within the GMCR framework to interpret the results, including attitudes (Inohara et al.,2007; Bernath Walker et al.2009), coalitions (Kilgour et al.,2001; Inohara and Hipel,2008ab), strength of preference (Hamouda et al.,20042006; Xu et al.,2009a), misperceptions (called hypergames) (Wang et al.,1988), emotions (Obeidi et al.,200520062009a2009b), preference uncertainty (Li et al.,2004; Hipel et al.,2011), conflict dynamics (Li et al.,2005), and matrix stability calculations (Xu et al.,2009b). By applying different analyses, the outcomes can be more deeply interpreted and additional strategic insights may be achieved.
Endnotes
aAfter NRU restarted in January 2008, another shutdown happened in 2009. On May 14, 2009, NRU was shut down due to a loss of electrical power in Ontario. On May 15, when the experts were investigating the reactor, they observed a small leak of heavy water within the facility. Therefore, the NRU was kept out of service for repair (AECL,2009). On August 17, 2010, the NRU was returned to operation (NRU Canada,2010). The performance of NRU, as an important supplier of medical isotopes in the world, is critical, and the repeated shutdowns of this reactor diminished the reputation of AECL, the company responsible for it.
Abbreviations
AECL:

Atomic Energy of Canada Limited
GMCR:

Graph Model for Conflict Resolution
DM:

Decision Maker
CANDU:

CANada Deuterium Uranium
ACR:

Advanced CANDU Reactors
OPG:

Ontario Power Generation
R&D:

Research and Development
CIGI:

Centre for International Governance Innovation
RFP:

Request For Proposal
GG:

Green Groups
OG:

Ontario Government
FG:

Federal Government
DUPIC:

Direct Use of spent Pressurized water reactor fuel In CANDUs
GMR:

General Metarationality
SMR:

Symmetric Metarationality
SEQ:

Sequential Stability
NDP:

New Democratic Party
MAPLE:

Multipurpose Applied Physics Lattice Experiment.
Authors' Affiliations
(1)
Department of Systems Design Engineering, University of Waterloo, Waterloo, Canada
(2)
Centre for International Governance Innovation, Waterloo, Canada
(3)
School of Business and Economics, Wilfrid Laurier University, Waterloo, Canada
Copyright
© Armin et al.; licensee Springer. 2012
This article is published under license to BioMed Central Ltd. This is an Open Access article distributed under the terms of the Creative Commons Attribution License (http://creativecommons.org/licenses/by/2.0), which permits unrestricted use, distribution, and reproduction in any medium, provided the original work is properly cited.