Research article

Open Access
Evaluating watershed management activities of campaign work in Southern nations, nationalities and peoples' regional state of Ethiopia
Environmental Systems Research
2015
4:6
Received: 18 January 2015
Accepted: 3 March 2015
Published: 9 April 2015
Abstract
Background
The Ethiopian government has been implementing watershed management mainly through public campaign work. However, its effects have not been evaluated in many micro-watersheds. This study evaluates watershed management activities and its socio-economic and biophysical role.
Results
Each kebele has institutional arrangements such as development teams comprising 3–35 households, and 5-person labor groups, which mobilize people and penalize absentees (if any). The survey indicated that common lands, subject to free resource exploitation such as grazing, were typically severely degraded. The majority of respondents wait for development agents and campaign work before repairing the conservation structures. Tree species selection was found to be appropriate in most areas. However, poor seedling survival (<5%) was observed in some micro-watersheds. In most micro-watersheds, structure selection, design, construction and spacing was appropriate.
Conclusions
Achievement in rehabilitating degraded lands was seen as excellent lessons for future efforts. The following issues need to be addressed in future watershed management campaign work: poor structure maintenance, low seedling survival, creating defined land user/owner for common land rehabilitated collectively, crop and cattle damage by wildlife residing in rehabilitated micro-watershed, incentivizing development agents, periodic auditing and repairing of built structures and seedling replacement.
Keywords
Conservation structures
Institutional arrangement
Property right
Seedling Survival
Watershed degradation
Background
Sustainable livelihood and increased food production in agricultural based developing countries require the availability of sufficient water and fertile land (Tesfaye 2011). In sub-Saharan Africa, unsustainable livelihoods often contribute to degradation of important watershed resources (Kerr 2002). Among the degrading watershed resources, fresh water and soil fertility take the lead in posing significant socio-economic, ecological, and environmental roles, especially for developing countries including Ethiopia where traditional agricultural-based economy is dominant. As a result of dependency of increasing population on traditional subsistence agriculture, most of the Ethiopian highlands are experiencing degradation of watershed resources.
Ever since people began manipulating land, various approaches and techniques were practiced to reduce degradation of watershed resources. However, the system thinking or modern watershed (generally a drainage area) management started in mid 20th century and adapted in most countries with the aim of controlling water pollution, sedimentation, soil erosion, flood, and discharge extremes. The watershed management effectively accounts multiple linkages between livelihood and natural resource management (Hope 2007; Tiwari et al. 2008). Vegetation, soil, and water resources can be protected more efficiently through this approach since whole ecosystems and people participation can significantly be considered (Kerr 2002; Srivastava et al. 2010; Price et al. 2011). This contributes for improvement of watershed resources and livelihood of the people (Pathak et al. 2013; Khajuria et al. 2014).
In Ethiopia, watershed management was initiated in the 1970s to tackle water-caused soil erosion impacts and water shortage in agricultural economy. Since this period, interest in the multiple environmental, economic and social benefits provided by watershed management has greatly increased and accordingly it has been recommended for achieving various purposes in different part of the country (Nigussie 2003; Woldeamlak 2003; Hengsdijk et al. 2004; Kefyalew 2004; Ludi 2004; Admasu 2005; Tamene et al. 2005; Ermias et al. 2006; German et al. 2006; Tamene et al. 2006; Tamene and Vlek 2007; Andualem 2008; Emiru 2009; Kebede 2012; HNCJ Hunger, Nutrition Climate Justice 2013).
There have been challenges (i.e. difficulty for rapid replication, engaging all land users in the watershed, implementation costs, etc.) to implement watershed management in different part of the country. However, as result of strong effort by government and community to overcome the challenges, exemplary successes at the mini-watershed (a drainage area covering 400–2000 ha) or micro-watershed (a drainage area covering less than 400 ha) scale has been recorded and globally appreciated HNCJ Hunger, Nutrition Climate Justice 2013). Evidence of success includes considerable improvement in water discharge levels in streams and springs, improved water table levels, and reduced sedimentation problems in the water harvesting ponds and reservoirs (Haregeweyn et al. 2005; Haregeweyn et al. 2008).
The current approach that much contributed for success is 'community based participatory integrated watershed management', which requires involvement and contribution of local people. The Ethiopian government understands the essence of this approach as evidences from successfully implemented pilot projects appear promising. Significant effort is occurring to replicate 'community based participatory integrated watershed management' activities in weredasa of most regions. As a component of this effort, in the last four years a nationwide 30 days public work campaign for watershed management has occurred. In Sidama, Kambata Tambaro, Wolayita and Dawro zone of the Southern Nations, Nationalities and Peoples Regional State (SNNPRS), such activities are ongoing. The 30 days watershed management labor contribution by farmers has been practiced in most weredas of these zones.
However, effect of such watershed management, effectiveness of institutional arrangement, influencing biophysical and socio-economic components, challenges and opportunities for replicating and sustaining the activities are rarely evaluated for most micro/mini-watersheds. Therefore, this study examines components of site specific packages of watershed management activities; evaluates the status of watershed management activities; analyzes effects of watershed management; and explores institutional, socio-economic and biophysical opportunities and challenges in adopting and sustaining watershed management activities.
Methods
Site description
SNNPRS is one of the nine political regions of Ethiopia. The region borders Kenya to the south, South Sudan to the west, Gambela region to the northwest, Oromia region to the north and east. The region is divided in to 14 zones (Bench Maji, Dawro, Debub Omo, Gamo Gofa, Gedeo, Gurage, Hadiya, Kaffa, Kanbata Tambaro, Segen, Shaka, Sidama, Silte, Wolayita) and 4 special weredas (Alaba, Basketo, Konta and Yem) (Figure
1
).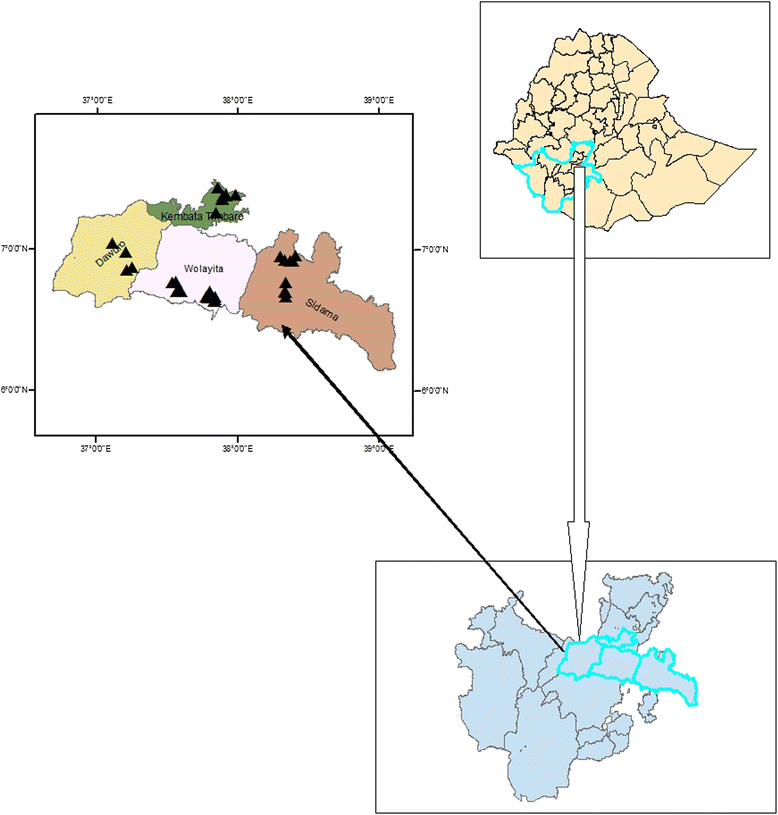 The 2007 census by Ethiopia's Central Statistical Agency (CSA) estimated that the SNNPRS region had a population of about 15 million (with annual growth rate of about 2.9%) from which 89.98% were rural inhabitants, making it Ethiopia's most rural region (Central Statistical Agency 2007). The region comprises an area of 105,887.18 km2. The eastern, northern and central part of the region is densely populated whereas the southern and western part is sparsely populated.
The region has a diversity of agro-ecological zones, ranging from Berha (semi-arid) at south Omo to Wurch in Gamo Gofa zone. Accordingly, the lowland area (mainly part of south omo zone) of the region receive less than 600 mm annual rainfall and highlands of Shaka, Kaffa, Dawro, Wolayita, KambataTambaro, Sidama, Gamo Gofa zones receive more than 1200 mm per year (SNNPRS-BoFED 2004). Average temperature of lowland exceeds 20°c and about 28°c is reported for extremely hot area. Average temperature of 10–20°c is recorded for highland areas, for which less than 10°c also exists. Generally, different part of the region is characterized by climate categories of hot semi arid climate, tropical climate II, tropical climate III, warm temperature climate I, and warm temperature climate II (SNNPRS-BoFED 2004). Owing to its diverse agro-ecological zones, a range of plant species grow in the region. The region is rich in perennial crops such as Ensete ventricosum, Coffee arabica, and Catha edulis. Cereal crops such as Triticum aestivum, Hordeum vulgare, Zea mays, Sorghum bicolor, Eragrostis tef, Phaseolus vulgaris, Pisum sativum, Vicia faba, Ipomoea batatas and Manihot esculenta are widely cultivated in the region. Coffee based agroforestry is widely adopted. Planting fruit/tree species around homestead is commonly practiced. Soil types such as dystric nitosols, orthic acrisols, pellic vertisols, chromic luvisols, eutric fluvisols, eutric nitosols, mollic andosols, and chromic vertisols dominantly characterize different part of the region (SNNPRS-BoFED 2004). The three basins: Omo-Gibe, Baro-Akobo, and Rift valley lakes drain big area of the region.
The land area of eastern, northern and central part of the region is comparatively degraded due to increased pressure from dense populations and long-term cultivation.
Methodology
For this study, Sidama, KambataTambaro, Wolayita and Dawro zones were strategically selected. From each zone, two weredas were selected for accessibility with a four-wheel drive vehicle and the existence of a range of agro-ecological categories. In each wereda, all four-wheel accessible kebeles
b
were categorized into agro-ecological groups. After these considerations, a kebele was randomly selected from each agro-ecological category and all micro-watersheds within the kebele, where watershed management has been implemented by campaign work, were considered for evaluation (Table
1
).
Table 1
Sampled zone, wereda, kebele, micro-watershed
Zone

Wereda

Kebele

Micro-watersheds

Sidama

Borecha

Yiriba Dubancho

Garato, Lelanto

Hanja Chafa

Chafa, Bantola

Koran Goge

Harfato, Koncha

Dale

Debub Kege

Golota, Begasine

Megara

Alelecho, Manto-Danchame

Kalete Senete

Gorbito,

Kambat-Tambaro

Damboya

Kota Kombola

Dilamo, Lantate, Eja

Ha'amancho

Oliso

Megere

Welecho

Angacha

Zebecho

Ajacho, Koruwa, Halega

Bucha

Kinham, lower Bucha, Ajacho

Gede Genet

Bukuna, Bubuyesa, Farkasa

Wolayita

Humbo

Abela Faracho

Kole, Alata, Lali'ana

Abela Sifa

Shafa, Basa, Loke

Ela Kabala

Tewaye Hamasa, Tebo Hamasa

Ofa

Yakima

Hoze, Halozia, Busho

Sadoye

Sadoye

Soresha

Bongota, Tuba, Awash

Dawro

Loma

Addis Bodare

Tida, Dulae

Gendo Walcha

Toni

Gedo Buna

Kuta

Mareka

Mari Madara

Ali

Gobo Shamena

Wuni
When the watershed management activities were implemented on common land, checklist guided focus group discussions were conducted with the farmers living around the impacted area. In the case where watershed management activities occurred on smallholders land, individual interviews were conducted. Five percent of the households were randomly selected for these interviews. Fifteen group discussions (each comprising 5–15 participants) were conducted in micro-watersheds. About 260 heads of household interviews were conducted (Table
2
).
Table 2
Number of farmers participated in group discussion and interview in each considered kebele
| Kebele | Number of participants in group discussion | Number of land users interviewed and farm field visited |
| --- | --- | --- |
| Yiriba Dubancho | 9 | 10 |
| Hanja Chafa | 15 | 18 |
| Koran Goge | 11 | 14 |
| Debub Kege | 6 | - |
| Megara | 5 | 19 |
| Kalete Senate | 8 | - |
| Kota Kombola | 7 | 11 |
| Ha'amancho | 9 | 10 |
| Megere | 7 | 18 |
| Zebecho | - | 15 |
| Bucha | - | 18 |
| Gede Genet | 5 | 18 |
| Abela Faracho | 5 | 14 |
| Ela Kabala | 5 | 8 |
| Yakima | 6 | 16 |
| Sadoye | 8 | 20 |
| Soresha | 7 | 10 |
| Gendo Walcha | - | 15 |
| Gedo Buna | - | 12 |
| Mari Madara | - | 8 |
| Gobo Shamana | - | 6 |
Discussions were conducted with each wereda watershed experts and kebele agricultural development agents. Secondary data, especially kebele achievement reports were reviewed.
When possible, field observations and expertise evaluations were conducted on watershed management activities in the micro-watersheds. The accomplished activities were evaluated using the following criteria:
Compliance of the watershed management activity with the principles of watershed logic, especially commencing interventions such as constructing physical soil and water conservation structures from ridge or upper part of the micro-watershed and progressively proceeding to valley or lower part of the micro-watershed.

Status of physical soil and water conservation structures:

Proportion of broken physical soil and water conservation structures.

The stabilization of physical soil and water conservation structures with biological measure (planting recommended grass/shrub/tree species on the structures).

Appropriateness of physical soil and water conservation structures selection (considering factors such as rainfall amount, soil texture, slope gradient, and existing land use).

Design of physical soil and water conservation structures by considering soil texture, rainfall amount, slope gradient and land use.

Compliance to recommended specification such as foundation for stone bund and channel depth, channel width, length, and berm for various other physical soil and water conservation structures.

Existing management and maintenance of physical soil and water conservation structures.

Seedlings planted and its management: appropriateness of species selection as affected by agro-ecology and related factors, survival percent of seedlings planted on common land in past two years, and on-going management.
An archive review was conducted at the kebele offices. The rainfall data for Yirba Dubancho, Yirgalem, Durame, Angecha, Humbo, Gesachare, and Gesuba stations was collected from Ethiopian Meteorological Agency,Hawassa Branch office. Micro-watershed elevation was measured using an altimeter. Survival of seedlings planted in the previous two years in common land was assessed by taking systematically distributed samples. Descriptive statistics was used to analyze the collected data.
Result and discussion
Due to an exploitive land use history, the study area's cultivated and grazing land has been degraded as characterized by: low fertility, gully and rills formation, moisture stress, declining productivity, etc. The objectives of watershed management in the studied micro-watersheds were related to these issues and mitigation activities focused on reducing further degradation and rehabilitating these impacted lands.
Conclusion and recommendation
In most of the surveyed micro-watersheds, even though improper land use affected soil productivity on individually owned lands, common use lands were universally severely degraded and will demand intensive investment to restore. All watershed management by public campaign work had the objective to rehabilitate such degraded lands. To alleviate these problems, the government attempted to mobilize communities by using preferred conservation structures. The survey revealed that in each studied kebele there is strong organizational structure that helps to inform and mobilize people for intensive watershed management work. The kebele development teams have authority and responsibility to motivate participation, and to punish absentees in campaign work. It was this team that significantly contributed to the achievement of observed results. These results, such as well established tree/shrub plantations, rehabilitated lands, fodder grass established on bunds, and the planting of soil fertility improving species such as Cajanus cajan can be considered as excellent land management lessons which can motivate the public to participate in such labor-intensive tasks.
In the studied micro-watersheds, most of the species planted on these degraded lands were suited to the agro-ecology and poor site conditions. However, the poor survival observed in some micro-watersheds needs technical and planting time consideration. In most micro-watersheds, structure selection, design, construction and spacing were appropriate. However, in some micro-watersheds errors need correcting such as poor stone bund foundations, bunds with narrow berms, shallow channel depth, and too long bunds without space for land users to move across farmland. In addition, the effort to repair the broken/sediment filled structures is poor in many area and needs attention, which influence the long-term fate of these structures.
Micro-watersheds, where the habitat and vegetation has improved, often see an increase in wildlife use. Farmers complained that these animals damage their crop and/or attack their livestock. This might create a negative perception towards the management work. Ways to effectively control the impacts caused by wildlife needs to be investigated.
Experts in many kebele were optimistic on finishing the first round of campaign work, wanting to complete the entire kebele within a few years. However, in some kebeles, such as Kota Kombola there are large areas, with serious degradation problems that will require long-term intervention and probably external support (Figure 4). In all kebeles, the actual work needs to match the reported accomplishments. Managed watersheds, especially common lands, need arrangements to assure future sustainable management and utilization.
Endnotes
aweredas is roughly equivalent to district and is the next higher administrative division to kebele in the country.
bkebeles is the lowest government structure in the country.
ckeberite' The local leader who own comparatively wide rural land and rent for other landless farmers during regime of emperor Hailesilase.
Abbreviations
BoFED:

Bureau of Finance and Economic Development
CFSCDD:

Community Forests and Soil Conservation Development Department
CSA:

Central Statistical Authority
NGO:

Non Governmental Organization
SNNPRS:

Southern Nations, Nationalities and Peoples Regional State
Declarations
Acknowledgements
This research was financially supported by Hawassa University, Wondo Genet College of Forestry. The author would like to thank Bob Sturtevant, Colorado State University, for language editing and for the input from the anonymous reviewers.
Authors' Affiliations
(1)
Wondo Genet College of Forestry and Natural Resources, School of Natural Resources and Environmental Studies, Hawassa University, Shashemene, Ethiopia
Copyright
© Wolancho; licensee Springer. 2015
This is an Open Access article distributed under the terms of the Creative Commons Attribution License (http://creativecommons.org/licenses/by/4.0), which permits unrestricted use, distribution, and reproduction in any medium, provided the original work is properly credited.